Reverie Harps are an amazing tool and have been a tremendous help to so many people.   But life has many seasons and maybe your Reverie Harp is not something that serves you anymore. 
I want to help you find a new home for your Reverie Harp so it can be useful again.  To that end I have tried to make this process as simple as possible.   Here's how it works: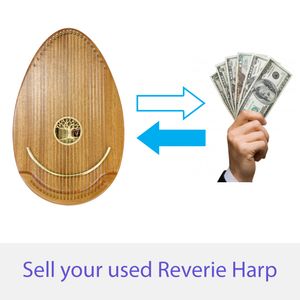 1.  Contact me and let me know you would like to sell your Reverie Harp. Let me know what condition it is in and how old the harp is.   
2.  I'll respond with a few questions and then let you know what I think I can pay you for your harp. 
3.  If you would like to move forward, I will send you a pre-paid label to ship the harp to me.  All you have to do is box up your Reverie Harp, attach the label, and drop it off at a UPS store. 
4.  Once I receive the harp, I will inspect it and either confirm the offer or let you know if I need to make any adjustments.  
5.  As soon as we are agreed, I will send you a check or paypal payment for the full amount.
That's all there is to it.  Don't hesitate to reach out if you have any questions.