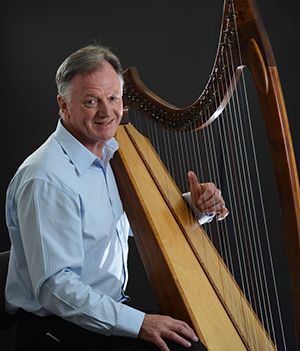 The year was 2007.  I had been working at Musicmakers for about 9 years.   I had been thinking that we should design a musical instrument that could be useful in Music Therapy but wasn't sure what that instrument should be.  It was at this time that I was paid a visit by a mysterious stranger.
Well, he wasn't actually that mysterious.  His name was Peter Roberts and he was (and still is) a music thanatologist living and working in Australia.  His primary instrument was a Gothic Harp built by Musicmakers.  He was back in the states at that time re-connecting with his fellow classmates and made a detour to visit the shop where his harp was built.  
We played some music together and had some great conversation during his visit.  He told me stories about the work he had been doing and then he put a wish out into the world.  He was looking for deep and meaningful ways to connect with his patients and he talked about how much he wanted to get his patients involved in making music instead of just listening to music. 
He told me about trying to put small harps or guitars in the hands of his patients and how this was often awkward and ineffective  Even a small harp is difficult to hold in a hospital bed.  And most people are already convinced that they can't play an instrument like a guitar or a harp.  
So Peter's wish was for
an instrument that was simple and comfortable to hold with graceful curves and no sharp edges
an instrument that was beautiful and inviting, something people would naturally want to hold
an instrument that absolutely anybody could play
He left me with this wish and I said I would see what I could do.  
I started sketching designs the very next day. I kept coming back to a simple oval shape but couldn't figure out how to arrange the strings to make any sense.  Traditionally, musical instruments have strings arranged from low to high and that wasn't going to work with this shape.  
But Peter wanted something that "anybody could play".  Thinking about this, I realized that we were going to have to re-think what it means to "play" a musical instrument.  This wasn't going to be an instrument that people practiced or studied or used to play written music; this was going to be an instrument that was instantly accessible to non-musicians and playable by anybody.  So, it wouldn't matter how the strings were arranged as long as they all sounded nice together.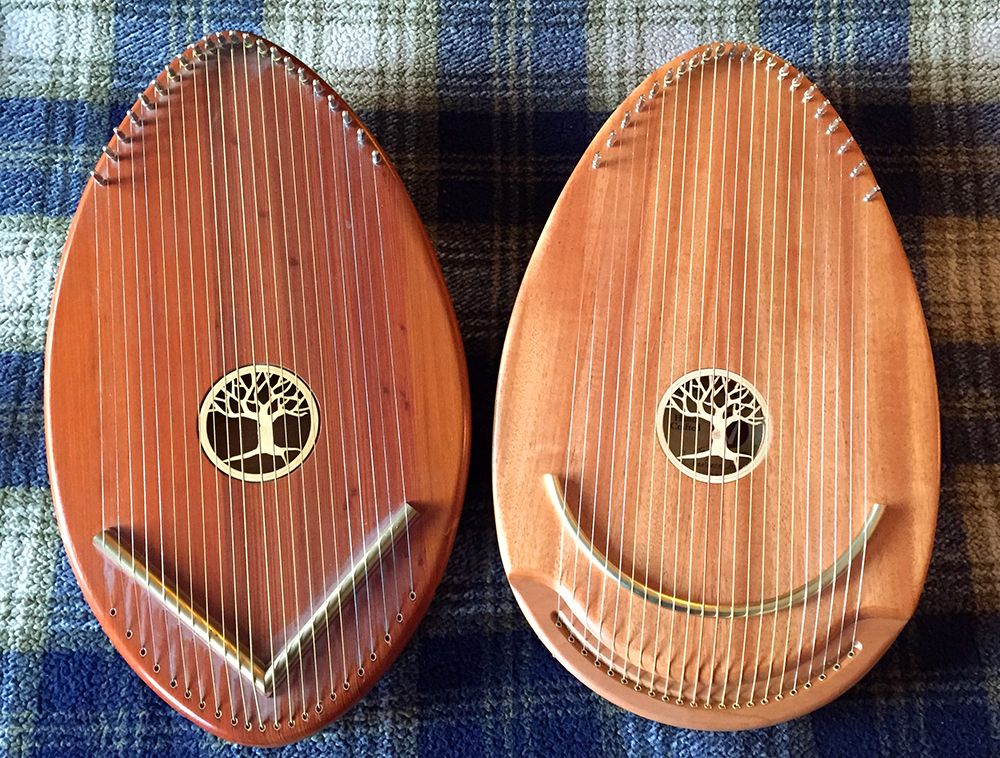 This realization was the ah-ha moment.  It was suddenly OK to let the shape influence the string layout.  I could put the lowest notes (longest strings) in the middle and have the strings go up in pitch as they moved toward the sides.  This realization also suggested the idea of a pentatonic tuning - a tuning where any given note sounds nice with any other given note.  
All this came to me in a flash and I immediately went into the shop and started making parts, anxious to get the first prototype built  I grabbed some scrap pieces of walnut and started shaping the frame, took a junky piece of plywood for the back, and used some knotty redwood for the soundboard.   While the glue was drying I started working on the tuning.  By the time I had the instrument built and finished, I had a string set and tuning chart ready to go.  I arranged the bridge in a simple V shape, installed the zither pins, glued in the Tree of Life rosette, and attached the strings.  After a few tunings, I gave it a strum and the Reverie Harp was born.  It was lovely!  
I sent pictures and recordings to Peter and he loved it.  He suggested the name "Reverie Harp" and it stuck.  Gary Brand and Tim Woulfe (real woodworkers) took my crude original model and refined it to the model that is still in production today and available here.