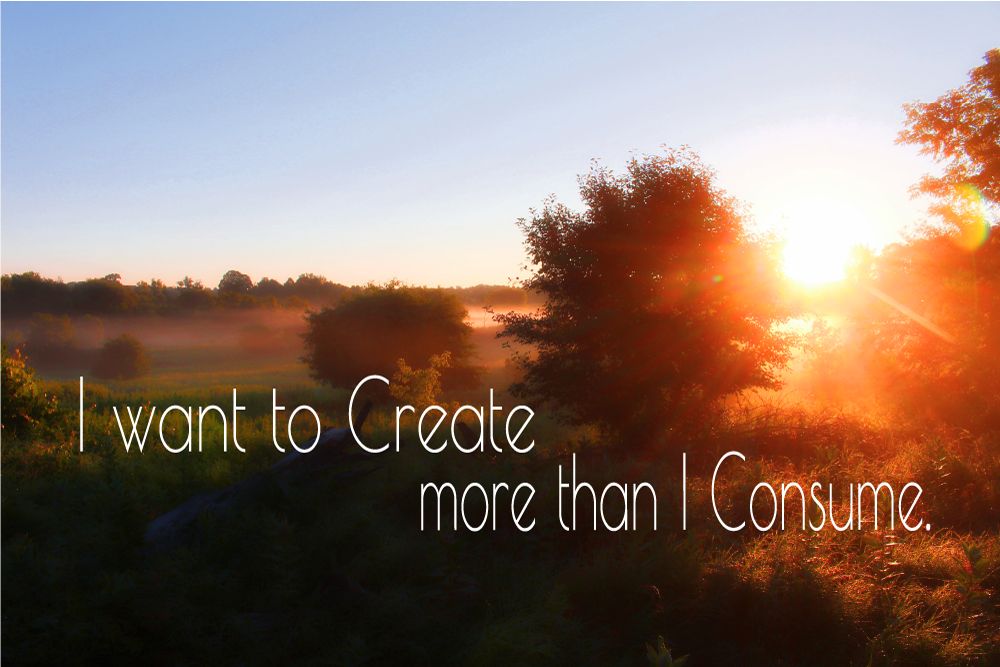 Late in 2019 I started to notice a feeling.  I was feeling an imbalance between what I was creating versus what I was consuming.  It was a nagging feeling that wouldn't go away.  I noticed that I am consuming all the time, endlessly.  Books, TV, music, food, the internet, technology.  And like an addict or the hungry ghosts in Buddhism, this continuous consumption never satisfies.   
That feeling of imbalance, quite naturally, fueled a desire to create; to put something new in the world.  I have no shortage of creative ideas, but I rarely get past the idea phase.  Mostly because my ideas are ridiculous, but also because, as I mentally pick at the worthwhile ideas, and walk through the project in my mind, I am quickly overwhelmed by the scope of the project and the number of decisions to be made. The energy required seems beyond what I am capable of.  Consuming, on the other hand, requires almost no energy, and the only decision I have to make is what to consume.   
In December of 2019, I read The War of Art by Stephen Pressfield.  This was a timely read and a couple of ideas from that book turned out to be very helpful.   
First, he talks about "turning pro" - the idea that, when you decide to undertake a creative endeavor, you should absolutely treat it like a job.  In other words, you show up to work every day.  He explains that we aren't productive at our regular, paid jobs because we feel inspired, fresh, and irresistibly motivated to work every single day.  Rather, we are productive because we show up every day and work whether we feel like it or not.  Pressfield insists that we must treat our personal, creative endeavors with the same level of professionalism.  We must commit to showing up and doing some work every single day whether we feel like it or not. 
The second idea from The War of Art that inspired me was his description of what it feels like to actually try and turn pro.  He writes eloquently about the feelings of doubt and negative self-talk that try to dissuade you from showing up to do the work every day.  It never goes away; there will almost always be some type of resistance to starting.  This is where the first idea of turning pro has to take over - you show up and start working anyway.  He says that once you start, you quickly work past the resistance.  This is similar to something I learned from Katagiri Roshi who said that getting out of bed in the morning immediately frees you from having to get out of bed in the morning. 
As the new year rolled around I decided to give these ideas a try and record an album of Reverie Harp music, an idea I've had for years, but never acted upon. I set up my studio and committed to showing up and working on the album every free evening.  It was not easy.  In fact, it was incredibly hard.  Feeling tired and uninspired in the evening, it was almost impossible to get up and go to the studio to record when I had no idea what I was going to do.  But I went anyway.  And I was surprised to find that every time I showed up, something happened.  Ideas came, discoveries were made, recordings took place, and the album began to materialize.  It wasn't long before I began to trust the process.  The voice telling me that I couldn't do it, that I didn't have any ideas, that I didn't even really know what I was doing was still there and providing resistance every night, but there was a new voice telling me that I should show up anyway because the last three times I worked on the album, I made progress.   I began to trust that voice more and it helped.  The resistance wasn't less, but my willingness to push through it had grown. 
So I kept showing up, day after day.  And, lo and behold, I made an album.