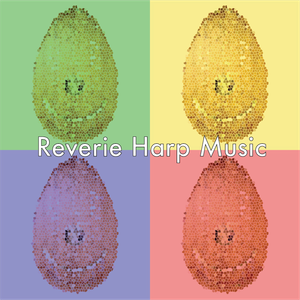 Every few months I would say to myself - "I should record an album of Reverie Harp Music."  This has been going on for years.  Well I finally decided to make it happen.  I challenged myself to record 12 tracks that feature the Reverie Harp.  I wanted to dig deep into this instrument and find out how much it had to offer.
I explored the different tunings and even developed a new tuning (see Mallets).  I rarely knew what I was going to do when I sat down to start a new track;  I would just tune the instrument and start to play.  I was constantly surprised by how an idea would eventually surface and turn itself into a new song.  
1) SPACE
Tuning:  Reverie Tuning in C
This was the first track recorded for this album.  I created a bed of atmospheric synthesizer sounds and then improvised on the Reverie Harp using the standard pentatonic Reverie Tuning in the Key of C
---
2) HANDS 
Tuning:  Meditation Tuning in D 
This was the last track recorded for this album.  I borrowed a Handpan from Musicmakers and asked my son, Sam, to play a duet with me. I modified the Meditation Tuning to play in the key of D minor to match the Handpan.   Both instruments are tuned pentonically so there are no "wrong notes".  We didn't plan anything ahead of time other than to set a general tempo. Improvising with another person on instruments when you can't play a wrong note makes it so easy to be completely inside the moment and respond to your own intuition, the other person, and the new creation that is unfolding.  In other words - it is a delight. 
---
3) LULLABY
Tuning: Lullaby Tuning
The Lullaby Tuning divides the Reverie Harp into two "chords".  I wanted to create something simple that alternated between the two chords so I started with a simple, four note plucking pattern played on one side of the instrument and then played the same pattern on the other side.  Once I had this recorded I overdubbed some improvisation and harmonics over the top.  If you had two Reverie Harps, this would be a simple way to play an improvised duet.  
---
4) 3/2 
Tuning: Reverie Tuning in C
The idea for this track was to use hammered dulcimer hammers to play the Reverie Harp.   Whenever I absent-mindedly drum a pattern with my hands I often do a three over two rhythm.  I started with the hammers on the soundboard, moved them onto the bridge and finally onto the strings.  I also plucked the strings in the same rhythmic pattern.  And then I added some bells because... they were right there.
---
5) CHOIR
Tuning: Reverie Tuning in C
The idea was to build a "choir" of voices.  I started with a pattern in the lowest register and then overdubbed up patterns on top of that in the middle and higher registers.  For the low drones I used a monochord with the Low C tuning and a homemade didgeridoo.  
---
6) MEDITATION
Tuning: Meditation Tuning in C
I love the Meditation Tuning - it's so moody and introspective.  I kept this track simple - just Reverie Harp and monochord tuned to middle C tuning.  The steady stream of repeated notes from the monochord is hypnotic and creates a beautiful space to explore the meditation tuning.  
Check out the Backing Tracks page if you want to download just the monochord sounds and you can play along on your Reverie Harp.
---
7) ELEMENTS
Tuning: Earth and Sky Tuning
For Elements, I decided to explore the sampling potential of my DAW (Ableton) and try to come up with something resembling modern electronic music.  Every sound on this track, from the kick drum to the pad, comes from the Reverie Harp. 
---
8) N2O
Tuning: Reverie Tuning in Bb
I was so enamored with the pad sound I created in Elements that I wanted to use that as the foundation of a track. And I wanted to try the the Bb Reverie Tuning.  I ended up creating several different pads and slowly added and subtracted them over 73 measures.  (Why 73?  It's the year I was born.  And it's a prime number.)  After I had the pads recorded, I went back to add something over the top of that  I just started plucking one note.  As I listened,  I realized this was the sound I used to hear when I was a kid in the dentist chair breathing the "funny air".    
---
9) ESTEY
Tuning: Lullaby Tuning
Last year I restored an old Estey portable pump organ.  It has the loveliest, warmest tone. I was intent on using it with the Reverie Harp.  The Lullaby Tuning seemed like a good fit.  I played and recorded a simple chord progression: Dm - G - C - Am on the Estey.  Then I improvised on the Reverie Harp, alternating sides every two measures. 
---
10) ECHO
Tuning: Reverie Tuning in Bb
I still had the Reverie Harp in the Bb tuning after recording N2O.  I was just noodling around and ended up holding it kind of like a guitar and started doing some guitar style finger picking.  I recorded that and built the track out from there.
---
11) MALLETS
Tuning: Mystic Tuning in E
I decided I would try to come up with a new tuning and see what happened.  Why not try something ridiculous like a Phrygian Mode...  I messed around for a bit and settled on this tuning.  I loved it.  I probably spend 20 minutes just playing the Reverie Harp in that tuning.  I also wanted to invite Olin to play some marimba on a track.  He is a talented percussionist and a whiz with mallets.  I met Olin in the Woodbury High School band room after school one day.  He rolled the giant 5 octave marimba over and I set up my microphones.  I told him to play something cool in E Phrygian pentatonic with 4 mallets.  He messed around for a bit and we hit record.  This was our first take.  
---
12) Forest
Tuning: Meditation Tuning in C
I wanted to do a track using the Meditation tuning in a forest setting.  But I live in Minnesota and recorded this in the winter so I had to turn to the internet for the forest sounds.  The stream and bird sounds are from www.freesound.org, a truly wonderful resource.
---
THANK YOU
Huge thanks to my boys, Sam and Olin.  They made this album better by lending their musical talents to HANDS and MALLETS.  And making music with them is the best! Beyond that, they never complained when I turned off the heat in our house in the dead of winter (to eliminate the furnace noise) and asked them to be absolutely quiet while I recorded.  
Musicmakers for building such great musical instruments and letting me take them home to make recordings.  
Jim, Vance, Ross, Aaron P, Sam, Rachel, Aaron B, and Mom.  These are my people.  I wouldn't be here without them.